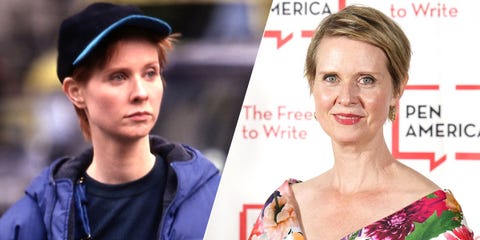 Then: Cynthia joined SATC as a seasoned Broadway actor with minor TV and film credits. In 2004, the same year the final season aired, she took home the Emmy for Best Supporting Actress in a Comedy Series after six seasons of playing Miranda Hobbes. Now: Cynthia ran for governor of New York in 2018. Although she lost to disgraced ex-governor Andrew Cuomo, her platform focused on important issues including income equality, universal health care, and putting a stop to mass incarceration.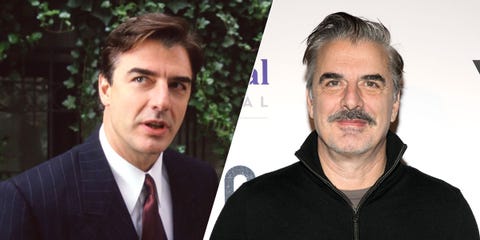 Regardless of your opinion on whether or not Carrie and Big belong together, there was no doubt that Chris's portrayal of her on-again, off-again lover was one of the pillars of the show. His post-SATC career has included long residencies with Law & Order: Criminal Intent and, of course, The Good Wife.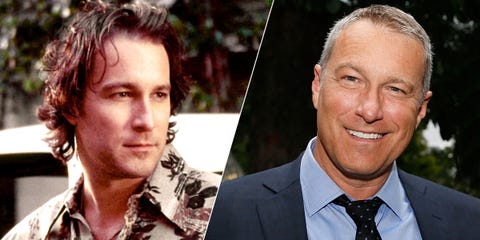 It's still hard to believe after all these years that the guy from My Big Fat Greek Wedding was also Aidan. John's post-SATC work has included episodes of United States of Tara, Parenthood, Sex & Drugs & Rock & Roll, and Portlandia.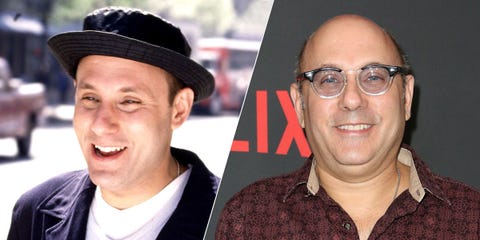 Tragically, Garson passed away from pancreatic cancer in September 2021. Sarah Jessica Parker, along with the rest of the SATC cast, posted touching tributes to the late actor on social media. On the original SATC, he played Carrie's incredibly fabulous and beloved BFF, Stanford. After the show ended, he appeared on everything from CSI: Miami to Pushing Daisies to Hawaii Five-0.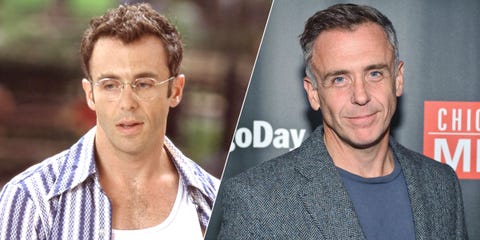 Miranda's forever good guy was the epitome of the ideal partner. That is…if you've been able to forget what Steve did in the first SATC movie. These days, you can still see David Eigenberg on TV. He's one of the firefighters on Chicago Fire.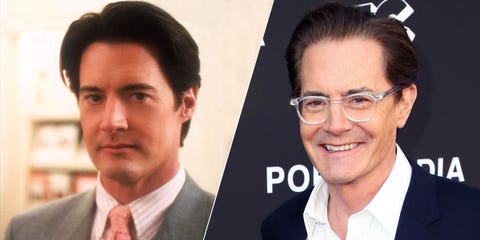 Charlotte and Trey were never meant to be together, but we'll always have the memory of the cardboard baby. Since leaving the #PlaidLife, Kyle has been busy playing the mayor of Portland on Portlandia, The Doctor on Agents of S.H.I.E.L.D., and, most recently, reprising his role as agent Dale Cooper on the Twin Peaks revival.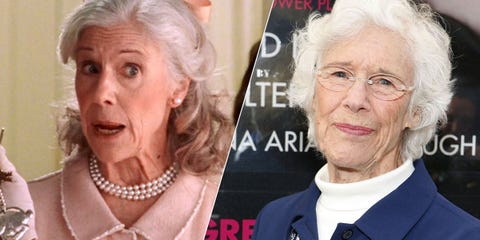 Bunny made Charlotte's life a living hell and was THIS CLOSE to taking the only good thing Trey gave her: the apartment on Park Avenue. Frances has been in the business since the '50s, so she knows a thing or two about what it means be a scene stealer. Her post-SATC work includes episodes of The Simpsons, The Closer, and Parenthood.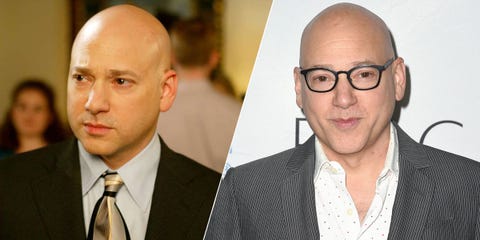 Like Charlotte, fans fell in love with Harry not long after he started sweating on her long overdue divorce papers from Trey. After the show wrapped, Evan went on to star in episodes of Studio 60 on the Sunset Strip and Californication. When he's not busy with acting or writing, you can find him in a state of doubt. No really: According to Evan's Twitter bio, he is an "inspirational pessimist." Good to know!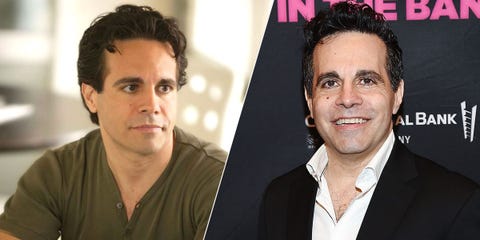 Since his Sex and the City days, Mario has continued his stand-up career and appeared on game shows like Match Game and The $100,000 Pyramid. In 2017, he portrayed Anthony Scaramucci for Comedy Central's The President Show and even surprised the real Scaramucci on an episode of The View.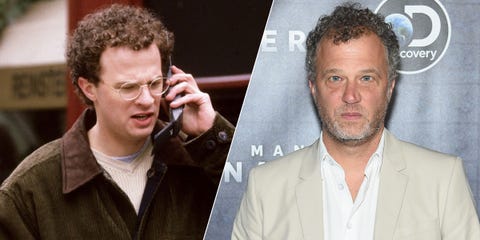 Remember Skipper, the 20-something "website creator" who briefly dated Miranda and suddenly disappeared during season 2? He was played by Ben Weber, who hasn't really been in much since SATC. In 2018, Ben told Cosmopolitan that it's also a mystery to him. "I have tried to figure this out," he says, adding that the show likely moved on from the "hopeless romantic" along with having characters talk into the camera. Somewhere, though, Ben thinks Skipper is living The Life as a "total Bitcoin billionaire." Sounds lovely.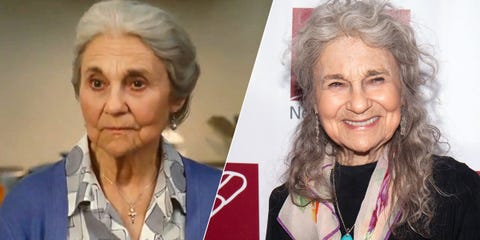 Lynn already had a stellar résumé (Manhattan Murder Mystery, Law & Order) before joining SATC as Miranda's beloved housekeeper, nanny, and confidante Magda. In a 2018 interview with Cosmopolitan, Lynn revealed that Magda was supposed to have a boyfriend on the show, but it never worked out. She also entertained the idea of Magda still working: "I might be taking care of the grandchildren of Miranda." Lynn passed away in February 2020 at the age of 86.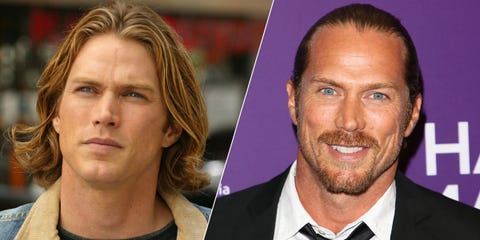 At what point did you realize Smith was hot? Was it when he and Samantha were boning on a chair on a bed? Or perhaps it was when he became the Absolut Hunk in Times Square? These days, Jason can be seen on NBC's supernatural drama Midnight, Texas. He plays a fallen angel named Joe Strong.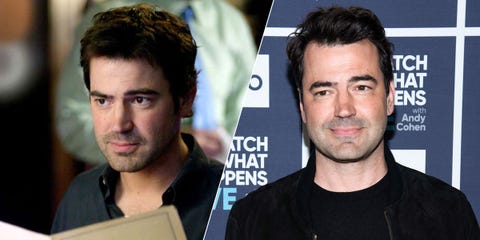 Ron has been everywhere since Berger broke up with Carrie on a Post-it note. He'll never live that one down, but if you care to have a Ron Livingston TV/movie marathon one of these days, consider any of the following: Drinking Buddies (2013) and episodes of Boardwalk Empire (2013), Search Party (2016), Loudermilk (2017), and Tully (2018).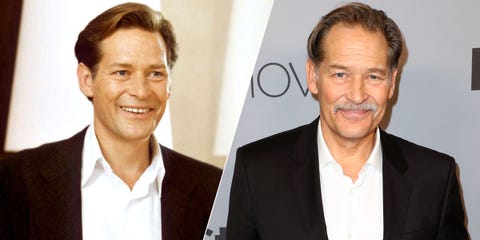 Arguably Samantha's worst boyfriend, Richard was portrayed by seasoned TV and film actor James Remar, who got his start on Hill Street Blues and Miami Vice. Since SATC, James has appeared on episodes of Grey's Anatomy, Gotham, and The Shannara Chronicles.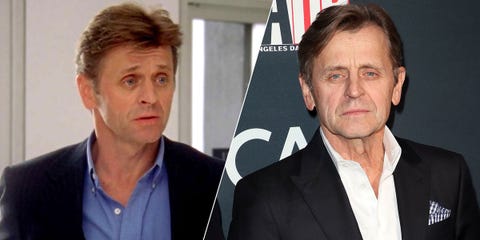 Long before SATC, Mikhail made a name for himself thanks to his illustrious contemporary ballet career. In a 2014 interview with Vanity Fair, he had nothing but appreciation for the show's fans, despite one minor detail. "It is a great series; it's fun and everything, but of course more people saw me in Sex and the City than if I had danced every day for the last 20 years."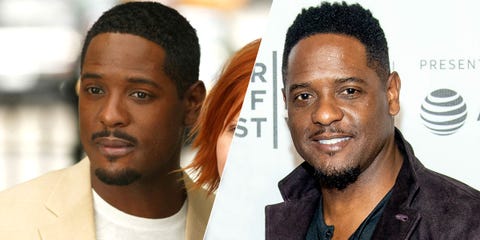 Blair had a five-episode arc playing Dr. Robert Leeds, Miranda's love interest during her break from Steve. Unfortunately, the two were never meant to be, despite Robert's giant "I Love You" cookie, which Miranda gobbled up. Starting in 2016, Blair starred in Quantico playing Owen Hall for three seasons.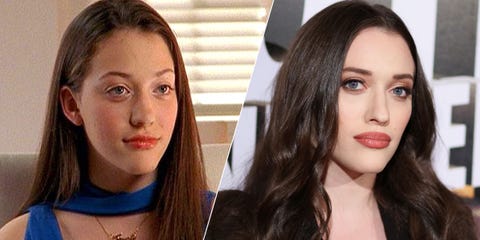 Kat made her TV acting debut on Sex and the City, playing 13-year-old Jenny, Samantha's party client who wants to have the best bat mitzvah ever. Of course, she's famously known for being one of the two girls in 2 Broke Girls. The show bid adieu in 2017 after six excellent seasons.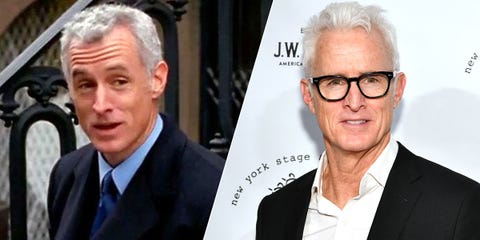 Before suiting up to play Roger Sterling for Mad Men, John wore a suit to play Bill Kelley, the politician Carrie dates over two episodes in season 3. Carrie made the most out of a lukewarm situation: When Bill expressed an interest in having Carrie pee on him in the shower, she wrote about it in her column. John, who's enjoyed an extraordinary career in theater and film, continues to kick ass in all mediums. He recently played Fred Schlafly (Phyllis's husband) on Mrs. America and Howard Stark (Iron Man's dad) in Avengers: Endgame.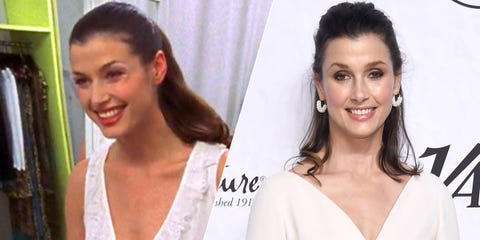 Did you know that Sex and the City was Bridget's first TV role? Not long after making her debut as Big's wife Natasha, the actor and model moved on to big projects like Coyote Ugly, Serendipity, and the John Wick movies. Since 2010, she's been playing Tom Selleck's onscreen daughter on Blue Bloods.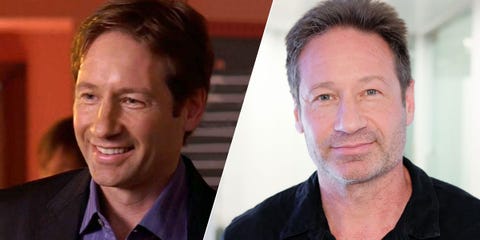 The X-Files alum had only one episode in season 6 ("Boy, Interrupted"), but he shone as Jeremy, Carrie's high school boyfriend who sweeps her off her feet. Not long after his Sex and the City visit, David embarked on his first of seven years with Californication. He's since completed two more seasons of The X-Files and also popped by the Twin Peaks revival for one episode.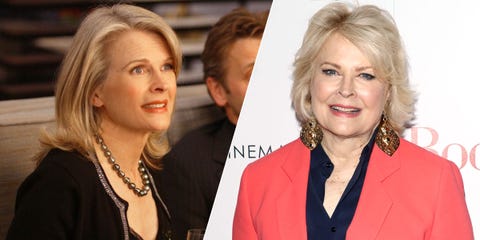 Candice first joined SATC in 2002 as Carrie's Vogue editor, Enid. While she was only in three episodes, Enid made quite the impression, especially on a certain Bon Appetit food critic. Candice has lots of feel-good movies under her belt, including the classic Home Again and hysterical Book Club. And of course, you can't forget the beloved '80s sitcom Murphy Brown and its short-lived revival.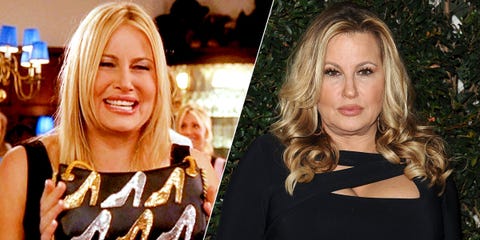 Just sayin', it's too bad Jennifer didn't perform some version of the bend-and-snap during her season six SATC cameo. She was still unforgettable as purse party designer and hostess Jennifer, who walks in on Samantha and Smith having sex outside her kitchen.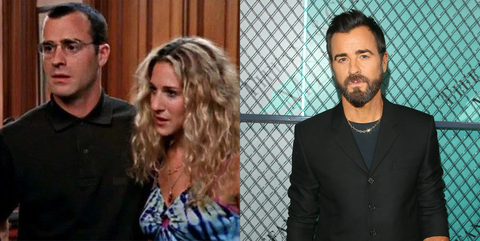 Justin Theroux played not one but two different characters in the SATC series. His first role was Jared, Stanford's writer friend who had just scored a spot on New York Magazine's 30 Coolest People Under 30 list and flirts with Carrie at a bar in season 1. Later, he played Vaughn, another author who writes short stories and also comes up short in the bedroom with Carrie. Justin went on to star in David Lynch's iconic film Mulholland Drive and The Leftovers on HBO, and he's also known for his short (but sweet) marriage to Jennifer Aniston.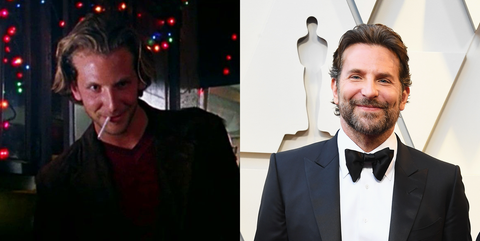 Little-known fact: Bradley Cooper scored his first acting credit as Jack, a cute guy Carrie hit it off with after she was feeling insecure about her unflattering magazine shoot (you know the one). As much as we all would've loved to see a young Bradley Cooper sex scene, he ends up stumbling upon the magazine when he stops for cigs, and Carrie, mortified, leaves. Jack was just the start for Cooper, now one of Hollywood's biggest stars who has eight Academy Awards nominations and two Grammy wins under his belt.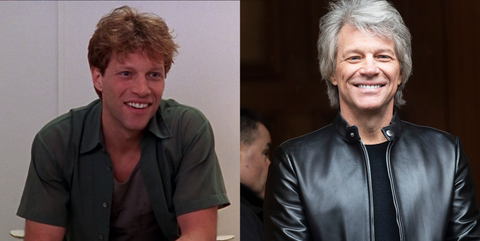 Yup, that's right, rock star Jon Bon Jovi played Seth, the guy Carrie meets at her therapist's office. Their fling prompts Carrie's self-realization that she chooses the worst guys, after Seth admits his own issues with women: "I'm really f*cked up about women. After I sleep with them, I completely lose interest." After his cameo, Jon Bon Jovi continued to give love a bad name and become an even bigger rock star.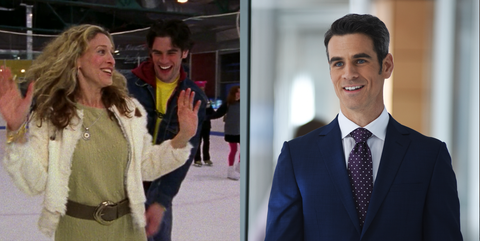 Remember Sean, Carrie's fling who makes her feel young and free, until she realizes she isn't actually that easygoing? That was Eddie Cahill, who soon became quite the hot commodity in '90s TV shows. Eddie played Rachel's sexy assistant/lover Tag in Friends and went on to star in CSI: NY for many years.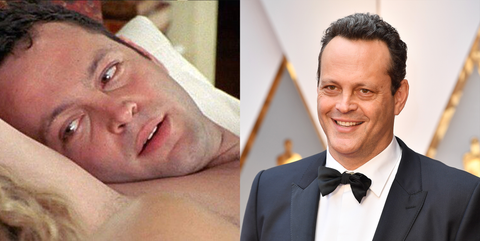 Vince Vaughn plays Carrie's West Coast fling Keith. When she visits L.A., he pretends to be Matt Damon's agent…when really, he's Carrie Fisher's assistant and house sitter. Vince went on to become a real Hollywood hotshot (no need to fake it anymore), starring in classics like Wedding Crashers with Owen Wilson and The Break-Up with Jennifer Aniston.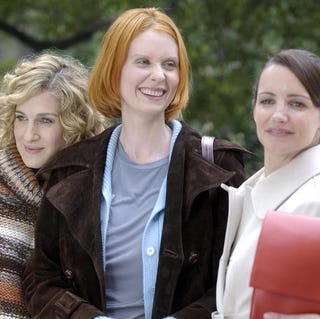 Source: Read Full Article